Name: Jewel
Age: 18
Gender: Female
Race: Changeling
Location: Changeling Country: I dont know the name of their country 
Talent/Profession: Jewel is one of Queen Chrysalis spies. 
Powers: The ability to shape shift into any race. Jewel can either shape shift to look like a certain pony/person or she can make a new identity in whatever race she wants to be. Jewel also has the ability of flight and can use basic magic. 
Physical Description: Jewel is a bug like pony creature. She is bit smaller when compare to ponies. On her forehead she has two horns. One is small and the other is bigger. She has purple eyes and wings. Jewel's mane and tail are short and both of them are light gray. Her whole body is a dark gray and there are holes in her legs, mane, and tail.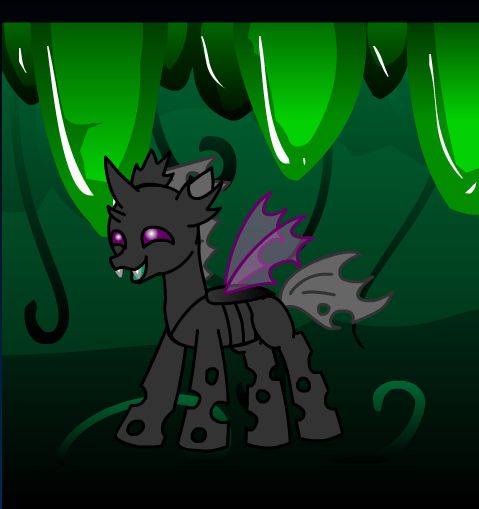 Personality: Unlike most changelings Jewel has a kind heart and is gentle. She is peppy and optimistic.  She enjoys the company of others and always puts the needs of others before hers. Jewel doesn't like confrontation and will do her best to avoid arguments.  She has a fear of making mistakes especially when she's on a mission for her queen. The fear comes from a fact that she's a bit of  a klutz. Jewel is also very bright and always ask questions.
History: Jewel comes from a poor family in Changeling Country. She had to work from an early age to help keep her family afloat. Things got worse when Jewel's father broke his back and is unable to work. Jewel quit school and joined the Queen's army when she was 14 years old. She wanted to make sure her family could continue to live decent lives. Jewel work very hard from day one to improve her abilities so she can decent position in the army. She wanted to be able provided more money for her family and perhaps get enough money to fix her father's back. By the age of 17 Jewel's hard work paid off. She became known as master of disguise. She was gifted  with making her own shape shifting identities instead relying on existing pony.  She was then promoted as spy for the army.