Sailor Jupiter
Moderator Senshi






Posts

: 1383


Join date

: 2014-03-28


Age

: 28


Location

: Transylvania


Subject: Fruits Basket Anime Thu Jan 08, 2015 7:08 pm

---

Fruits Basket Anime:

The story is the same as the manga- it just only runs 26 episdoes.

Wikipedia wrote:

Fruits Basket (Japanese: フルーツバスケット Hepburn: Furūtsu Basuketto?), sometimes abbreviated Furuba, or Fruba (フルバ?), is a Japanese shōjo manga series written and illustrated by Natsuki Takaya. It was serialized in the semi-monthly Japanese magazine Hana to Yume, published by Hakusensha, from 1998 to 2006. The series was also adapted into a 26-episode anime series, directed by Akitaro Daichi. The series tells the story of Tohru Honda, an orphan girl who, after meeting Yuki, Kyo, and Shigure Sohma, learns that twelve members of the Sohma family are possessed by the animals of the Chinese zodiac (十二支 Jūnishi?) and are cursed to turn into their animal forms when they are weak, stressed, or when they are embraced by anyone of the opposite sex that is not possessed by a zodiacal spirit. In the anime it is possible to transform through torso contact.

Anime Discussion can occur here
Sailor V
Senshi of Members







Posts

: 2236


Join date

: 2013-08-20


Age

: 28


Location

: Dreamland


Subject: Re: Fruits Basket Anime Thu Jan 08, 2015 8:15 pm

---

Well the ending is different from the manga. XD

I enjoyed the anime. I think I own 3 vols of the DVD? I'm not sure. I need to find my copies...

I do adore this anime, but sadly i prefer the manga. It had a better ending and not all of the characters made it to the anime. It saddens me that anime only got 26 episodes. ;-; The ending of the anime made me cry....
Luna
Chat Gardien de la Lune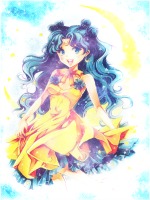 Posts

: 1828


Join date

: 2013-08-20


Age

: 32


Location

: Lost in the Labyrinth


Subject: Re: Fruits Basket Anime Thu Jan 08, 2015 8:43 pm

---
Sponsored content

Subject: Re: Fruits Basket Anime

---