General Information
Name: Setsuna Meioh
Age: unknown, appears to be in her late teens
Gender: Female
Birthday: October 29th
Appearance:
Setsuna
Setsuna is taller, about 5'10'' with long flowing dark green hair that falls just below her hips, she also has part of her hair pulled up in a bun. She has red eyes. Her complexion is darker compared to the other senshi. Setsuna dressed very classy. She likes to look her best. Most often she can be seen in her school uniform, but when not in her school uniform, she is also seen wearing a purple knee length skirt with a matching jacket, a white blouse with a red bow in the middle. She also wears red converse shaped earrings.
Sailor Pluto
Sailor Pluto has a white leotard with a black collar and skirt. Her fuku is sleeveless and her collar has no stripes on it. She wears white elbow length glows with black trim. She wears black knee high boots with white trim at the top.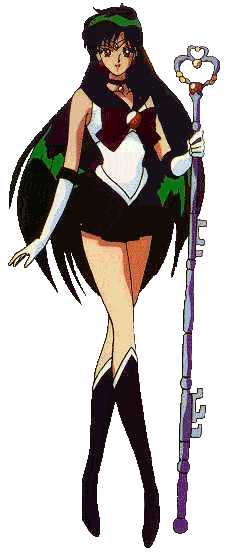 Manga Sailor Pluto
The only difference with manga pluto is she has a belt of keys that sits ontop of her skirt.
Super Sailor Pluto
Super Sailor Pluto gets a small change to her fuku when her powers upgrade. She now has sleeves on her fuku, she has the standard sleeves like the other senshi, but she also has the transparent flowy sleeves. Her collar also now has a white stripe and she wears a black choker with a yellow star.
Eternal Sailor Pluto
Again Sailor Pluto gets a power upgrade, and with this upgrade her uniform changes. Her skirt is now black and grey with a small yellow star just below her naval on her leotard. She also now has poofy grey sleeves with black trim. Her collar now has a yellow stripe. Her bow is also a lighter red and her bow in the back is replaced by two black skinny ribbons.
Personality
Setsuna is very quiet unless she is with those she is closest with. Setsuna spends a lot of time alone. She spends her time studying physics. She can come off as not being very emotional but she does care for those around her. She also develops a close bond with Chibiusa/ Small Lady. Setsuna likes green tea, fashion, sewing and shopping. Her dislikes include cockroaches, eggplant and the study of music.
History
Setsuna is the oldest of the group. She had a short appearance in the anime, but is still important to the story. Setsuna studies at the university. She had dreams of being a fashion designer, but is currently studying physics at K.O. University. Setsuna has no recollection of her life as Sailor Pluto and is later awakened and reunited with the other outers.
Special Abilities.
Sailor Pluto is able to manipulate time and space, although doing so will cause her to die. She is able to generate damaging energy and also can generate force fields. Her powers are also tied with Sailor Saturn's destructive powers. Her powers are whispered rather than shouted.
Senshi/Villain/Knight Information
Senshi/Villain/Knight Name: Sailor Pluto
Transformation(s): Pluto Planet Power Make Up! And Pluto Crystal Power
Attacks: Chronos Typhoon Dead Scream  dark dome close
Weapons or Items: Garnet Orb
History as a Senshi/Villain/Knight
Sailor Pluto is the guardian of the time gate. During a short period she is allowed to leave the gate and be reincarnated in human form. During this time, she studies at the university, even though she is still a high school student. At this time she has no recollection of being Sailor Pluto. After being controlled by Tellu's plant she hears a voice telling her to awaken as Sailor Pluto. During the dream arc, Setsuna raises Hotaru with Michiru and Haruka.
In Crystal Tokyo, Sailor Pluto's sole purpose is to guard the time door. She also has a strong bond with Small Lady which causes her to break one of her taboos to bring Small Lady back after she had been corrupted by wiseman and turned to Black Lady. The manga plays on Setsuna's love for Endymion, but it is never really addressed in the manga. In the musicals though, Pluto has an unrequited love for Endymion.
Other: In the musicals, Pluto has unrequited love for Endymion
RP Sample:Must be at least 500 words.
Setsuna was busy working away on her physics homework. She had a midterm tomorrow and needed to get in some last minute studying. She was prepared for her exam, but just wanted to brush up on a few more concepts before she called it a night. Feeling satisfied after about an hour of studying she closed her book. Setsuna reached up, stretching her arms. She decided to make some tea. She went into the kitchen and put the kettle on the stove. She pulled out one of the green tea bags. She looked in the box and noticed she was almost out of tea.
Looks like its time to go get some more tea,
she thought as she waited for the water to heat.
When the kettle whistled, she took the kettle off and filled her favorite cup with the water and waited for her tea to steep. She took her cup and went and sat in her favorite chair. She grabbed a blanket and wrapped it around her as she pulled out a book. She had been so busy lately, it was nice to take a break from life and read for fun. She was reading a sewing book, looking for ideas to make a dress. She had been invited to an event by Usagi and wanted to wear something original. As Setsuna read she began to hear the rain fall against the window.
As she sat listening to the rain, she remembered a memory of her and Small Lady. She chuckled remembering the young princess and her fear of the storm. Small Lady had come to Setsuna for comfort, the King and Queen were working away in the palace that day, she recalled trying to plan to sign a peace treaty, when the unexpected storm occurred and confined them all to the palace walls.
Small Lady, I hope you are doing well my friend,
Setsuna thought as she continued to browse through her sewing book, enjoying her tea and the pitter patter of the rain against her window.
Shortly after Setsuna finished her tea, she drifted off to sleep. She dreamed of small lady and being back in Crystal Tokyo. Her dream was very vivid, it was almost as if she was walking in the palace of Crystal Tokyo.
How can this be?
She thought, she was supposed to be guarding the time gate, what if the enemy tried to attack, they would surely all perish. She looked around trying to put the pieces together. She noticed she was in a formal black dress. She turned and saw the King next to her. He smiled at her as he spoke her name. Setsuna jerked awake, looking around and realizing she had fallen asleep and was dreaming. She got up and put her cup in the sink before she headed off back to bed. Her dream had her confused, but also made her smile, she would never tell, but she had hoped the King would speak to her with that soft voice he had used with Serenity many times before. Sure, Setsuna may had been jealous in her thoughts, but she knew the feelings would never be returned, so she was happy to have the dreams where the feelings were mutual. She smiled as she drifted back to sleep.