Sailor Jupiter
Moderator Senshi






Posts

: 1383


Join date

: 2014-03-28


Age

: 28


Location

: Transylvania


Subject: Zena-Humanoid (Ready for Review) Wed Sep 24, 2014 2:06 am

---

Name: Zena Watanabe
Age: 437 (Appears to be 17)
Gender: Female 
Race: Non Human 
Birthday:  October 20
 
Appearance:
Zena is 5'8''. She has shoulder length wavy black hair with red highlights. She has pink eyes. She is a slender girl, but has tone to her muscles. She likes to wear dark colors, especially black. Her clothing style is a mix of military-esque, casual, but also very classy. She wears a bandanna in her hair (the bandanna will match whatever outfit she is wearing for the day.

In her villain form, Zena has green skin. Her hair is slightly longer, down to her elbows. She has red eyes. Her right eye has a scar going through it and she has a scar going down her left cheek. She wears darker colors in villain form, and her style is more gothic and baggy than her civilian clothes. She wears black knee high lace up boots in her villain form.

Civilian

Villain

Personality:

Zena is very dedicated to those she is closest with. She is loyal to her overseers and would do anything to please them. Zena is considered the leader of the girls in the group. Even though she is quite younger than the guys, she is very mature for her age. She is also very coy with certain people. She can often become confused by her emotions, especially if the emotions are new for her to feel. Zena is also one to play it by the book. She doesn't like to deviate far from the plan, because the prospect of failure is quite frightening to her. Zena is currently fighting her feelings for Felix, she can't tell if she is attracted to him or not, but for now she does admire him as a leader, maybe a little bit more. Her likes include reading, gaming, martial arts, exercise, and meditation.

 

Zena dislikes those who are rash, namely Gustav. She dislikes dried fruit, and onions. She is afraid of being in bodies of water, for example on a boat. She dislikes planes. Zena also dislikes wasting time, she feels time is very precious and puts her all into making sure she does not waste time on things that would upset the head command.

 

History:

Zena has lost many of her memories. She was very young when her planet was destroyed. She's not sure who saved her. But she is grateful to have a new opportunity on life. When Zena lived on her home planet, she was the daughter of the General of the Army on her planet. She remembers being fascinated with her father's job, which made her want to study strategy books and such. Her mother had wanted her to be what she found was like a beauty queen, on her planet. She had the looks, but that girly stuff never interested her. When she got to earth, she later met Melrose and Celeste, and they bonded, the three grew closer when they discovered they were all from the same planet.

Special Abilities: Zena is able to read into people's emotions. What she does is somewhat like manipulation, but say someone is feeling sad, she can see into their thoughts and see what is causing them to be sad. She will use her powers to make that person forget about what is making them feel sad and the person will feel happy. Zena is incredibly fast and stealthy. She can sneak up on the enemy and attack without them even knowing she was there. Zena is also very in tune with fire and the elements, fire is her strongest point. She is also able to enter a person's mind to make them more susceptible to her powers and the powers of others from her planet.
 
RP Sample:
Zena had just finished the book she was reading when she heard her phone go off. She answered in a mellow tone, "hello?" it was central command, they told her to gather the others and head to the safe house for their instructions. Zena walked from her room to the main room where Celeste and Melrose were. She notified them that they had been summoned for  a new mission. Zena went back to her room to change into something more fitting. She decided on her black leather pants and her sapphire blue tee-shirt with the v neck line. She also grabbed her black leather jacket and slipped it on. She tossled her hair until the waves fell just right. She and the girls then headed to the safe house to await their directions.The girls arrived at the safe house and Zena proceeded to enter the necessary information to get connected with central command. Only it wasn't central command. It was Felix. While he had been assigned group leader, Zena couldn't help but smile on the inside and noticed her heart beat sped up just a bit. What is this I am feeling?  She thought as she greeted Felix.

"I'm told we have new orders, Felix, what might those be," she asked in a casual tone.

He showed her and the girls a picture with 5 girls in it. One girl was circled in red with target written across her. Zena heard Felix say she was the target, she was the one they were to watch closely, the plan was still being set, Felix told her, but they needed to keep an eye on her. Zena heard him say she was the one responsible for the destruction of their planet. In that moment, Zena knew she would get revenge on this girl who destroyed her world, the one who killed her parents. "You will pay for what you did miss bun head." She said as the intercom went off.
Luna
Chat Gardien de la Lune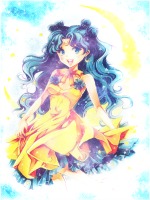 Posts

: 1828


Join date

: 2013-08-20


Age

: 32


Location

: Lost in the Labyrinth


Subject: Re: Zena-Humanoid (Ready for Review) Wed Sep 24, 2014 5:29 am

---