"For Love and Intellect, I am the pretty suited soldier, Sailor Mercury! Douse yourself in water and repent!"

Ami Mizuno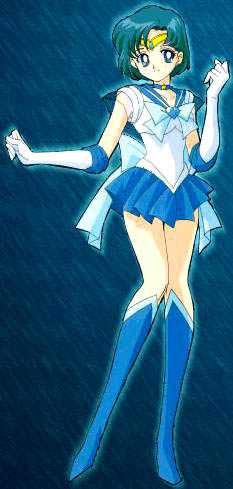 Sailor Mercury
Ami Mizuno is the girl who can transform into Sailor Mercury, the Senshi of Wisdom.  Ami is extremely intelligent, and started out (at least in the anime) when she was introduced as being a girl who studies during almost all of her spare time.  She always excels in her schoolwork, consistently receiving the top score on tests.  Because of this, other students circulated a rumor that her IQ was 300, but this was never confirmed in the series.  Through the series, she evolved into less of a bookworm, even going so far as to be member # 25 in the Three Lights Fan Club at the beginning of the Galaxia story-arc of Sailor Stars, and thus have a gold-colored membership card (better than any other of the senshi girls) - but because of her modesty, she is quite ashamed of this.  She never looses her desire to study, though, even helping the other inner girls out a lot during their group study sessions.  She dreams of becoming a doctor, like her mother.  She is weak in the field of romance, though, becoming quite embarrassed when she gets a love letter.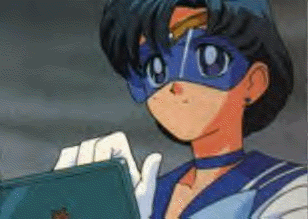 Sailor Mercury using her mini-supercomputer and its accompanying visor
Sailor Mercury was the first senshi to be discovered by Sailor Moon (in both the anime and the manga).  Her attacks are water/ice-based.  Because of her high intelligence, she was given a pocket-sized supercomputer by Luna.  This computer can be used to make calculations about enemies she is facing and situations she is in, even going so far as to be able to find an enemy's weakness and figure out the exit from traps she finds herself in.  It has an accompanying visor that covers the upper one-third or so of her face; when she has activated this visor, her computer's calculations show up on the visor for her to see, and can identify where in her field of view something is.  In the manga version only, there was even a headset extending down from her ear to in front of her cheek which had a small microphone at the end of it; its purpose was never explained, though.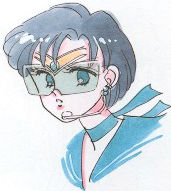 Sailor Mercury with her visor and headset
I love her a lot because she is so much like me, it's amazing!  Virtually everything, from her favorite color (blue), to the fact that her parents divorced when she was young, and her high intelligence and devotion to her schoolwork, to her desire to help others when she can.  About the only way we are different is that I'm not modest or humble like her.
So come on - show your love for Ami Mizuno / Sailor Mercury!