Hidden in the mist and mystery of the Space-Time continuum lies a Door. This door, which can reach across Galaxies and through the vortex of time, is guarded by a lonely and eternal soldier called...
Sailor Pluto
This lonely soldier is the Guardian of Pluto, and of the Space-Time Door. She has been guarding the Door since the Silver Millennium and was quite isolated until Sailor Moon and her guardians came along during the R Arc. When she found herself thrust into the battle with the Black Moon Clan, she sacrificed her body and her life to helping Sailor Moon, and was the cause for Black Lady's conversion into Sailor Chibi Moon, and subsequently, ChibiUsa. 
After the Black Moon clan was defeated, Sailor Pluto was reincarnated as Setsuna Meioh and became a holder of one of the 3 Talismans that would be the key to reawakening Sailor Saturn. From there she became one of the surrogate mothers to Hotaru (Sailor Saturn) along with Michiru and Haruka.
Setsuna is a studious and thoughtful person. She loves fashion and her dream is to be a Fashion Designer. During the manga she was working as a Astrophysics intern at the Tokyo University.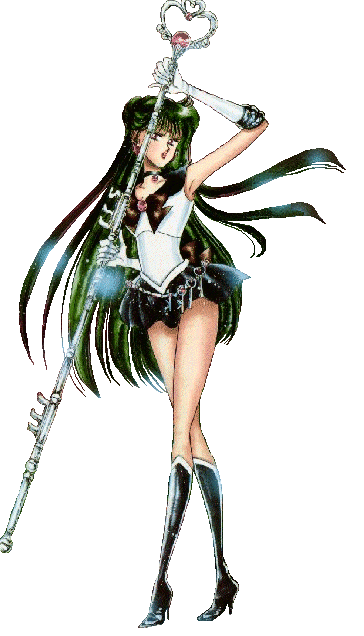 Let's all show our love for this beautiful and elegant Senshi!!