Sailor Andromeda
Founding Senshi






Posts

: 309


Join date

: 2013-08-22


Age

: 32


Subject: Orycon Sat Nov 09, 2013 6:03 pm

---

So I went to Orycon yesturday with my boyfriend, dressed up as an Aes Sedai again, like I did for Halloween. Of course, my boyfriend was my warder again. xD We had a lot of fun, I spent WAY too much money there, but it was awesome. One of the vendors there sold corsets, and I have always wanted one, but could never find one in my size. This lady is so awesome she makes them in ALL SIZES. I HAVE A CORSET THAT FITS ME NOW! And even more awesome is that SHE GAVE ME HER PRETTY BLACK AND GREEN FAN! I didn't ask for it. I merely said it was pretty and she gave it to me. She said it went awesome with my costume (green satin with yellow brocade) and gave it to me. That really made my day.

I later lost my badge and had to get a new one. The sucky part of that was that I had a ribbon for wearing a costume and it was attached to my first badge and I couldn't get a second one. Oh, well. I have the new badge up on my wall, and I'm currently wearing said smexy corset. It's not as uncomfortable as you might think. It's really well made, and the only guarantee it does not come with is if you're doing something stupid and break it. xD Like playing with swords, or trying to do something kinky and cutting it off. You're on your own there, but everything else is guaranteed for life. Here's a picture:
Sailor V
Senshi of Members







Posts

: 2236


Join date

: 2013-08-20


Age

: 28


Location

: Dreamland


Subject: Re: Orycon Sat Nov 09, 2013 6:26 pm

---
Luna
Chat Gardien de la Lune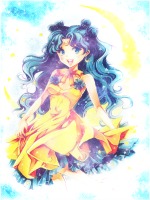 Posts

: 1828


Join date

: 2013-08-20


Age

: 32


Location

: Lost in the Labyrinth


Subject: Re: Orycon Sat Nov 09, 2013 7:11 pm

---

I have one i wore under my pirate costume and if you get them in the right place on your body they are comfy, i mean you don't bend well and you can't slouch, but it's still not really bad. I used to do the Ren Faires around my area too, so i wore them then too. not an over all bad once and a while wear.
Sailor Saturn
Senshi of the Arts







Posts

: 1564


Join date

: 2013-08-23


Age

: 35


Location

: Central NY


Subject: Re: Orycon Sun Nov 10, 2013 9:34 pm

---
Sailor Andromeda
Founding Senshi






Posts

: 309


Join date

: 2013-08-22


Age

: 32


Subject: Re: Orycon Tue Nov 12, 2013 2:35 pm

---

v-babe, it's as luna says. they are surprisingly comfortable, though you cannot bend well or slouch. and it's a little odd trying to sit down in one of them. plus they are super pretty.

saturn, that's really just me in my normal street clothes, with the corset over my shirt. xD the costume i wore is in my closet right now.
Sailor Saturn
Senshi of the Arts







Posts

: 1564


Join date

: 2013-08-23


Age

: 35


Location

: Central NY


Subject: Re: Orycon Tue Nov 12, 2013 11:34 pm

---